Best Catering Services Provider in Bangalore
Bhandary's Kitchen offers a wide variety of catering services in Bangalore with amazing food to fit both your event and your budget. Our full catering services handle all aspects of events such as preparation, creation, delivery, and presentation of food. We are a team of professional caterers serving the catering needs of weddings, corporate, outdoor, small parties, and more. We understand well that the type of event will determine the type of services you need. Our catering solutions are tailored and designed to meet what you are looking for and what to create to inspire an exciting catering experience.
Planning a Fabulous Event?
Choose Our Catering Services for Your Event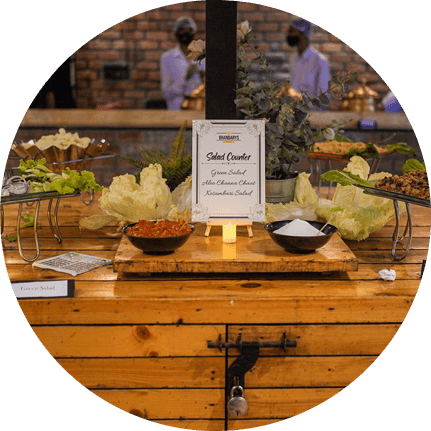 book today!
Book Your Tasting Session
or Discuss Your Project
Testimonials
What Our Clients Say About Us

Food quality is awesome if you think about north indian food, please go for it. Especially gulabjamun they r the best  All food items served hot. In short awesome service, all my guest joined our party loved d food.

Thank you to the Bhandary's Kitchen Team. Your team is very professional, well mannered and beautifully represented food area, made our daughters birthday dinner just perfect. Our guest appreciates everything about catering.

Awesome service, great food and courteous staff. Had used their services for the b'day party and absolutely satisfied on all aspects. The food quality is just awesome and the presentation was also excellent. Will surely recommend them to anyone looking for great food and exceptional service.
Our Mission
To cater to your members, guests, and associates as a valued destination of choice, bringing people together to have fun as a part of the balanced and healthy lifestyle. Our friendly, dedicated, and professional team will passionately provide a high-quality dining environment to create a memorable experience.
Strategic Planning
Strategic planning is a succinct step taken to give immense satisfaction to the end user in satisfying their palatable necessities for business associates and develop relationships with key nutrition and health influent. The strategic planning process results in a jointly developed action plan that includes strategies and tactics to achieve business objectives.
contact us
Leave a Feedback or
Ask a Question