Best Brahmin Catering Services in Bangalore
Bangalore is the home to posh celebrations — be it larger-than-life weddings or giant corporate events. Bhandary's Kitchen has catered to every aspect of the Brahmin community in Bangalore. Whether you are looking for Brahmin caterers in Bangalore for Iyer & Iyengar, Tamil, Telugu, Kannada brahmin and Andhra Brahmin, we can meet your needs.
How We Process
We have a highly trained culinary team that works as per the theme of the event and crafts menus that are unique and memorable. We, at Bhandarys, take pride in ensuring that our clients receive top-notch quality food and services. Since catering in Bangalore is no easy task, we take extra effort into providing a menu accommodating a diverse range of cuisines for a wider audience.
Besides working as a Brahmin caterer, we curate a menu for every Brahmin special occasion – marriage arrangements, upanayanam, shastipoorthi, Engagement, and more.
The Commitment of ''Bhandary's Kitchen'"
Committed to providing unparalleled support to countless Brahmin celebrations. Leaving a lasting impression with consistency in taste and presentation of delicacies across all Brahmin communities of Bangalore. Our dedication and commitment through continuous improvement to quality has earned us heaps of praise. As a growing Brahmin catering service provider in Bangalore, we use the best and fresh ingredients to serve a multi-cuisine platter of happiness across this diverse community.
Brahmin Menu
Brahmin cuisine is vastly different — spicy and flavorsome. Being one of the leading catering companies in Bangalore, we make sure that you get standard assistance with great Brahmin menu ideas created only for you: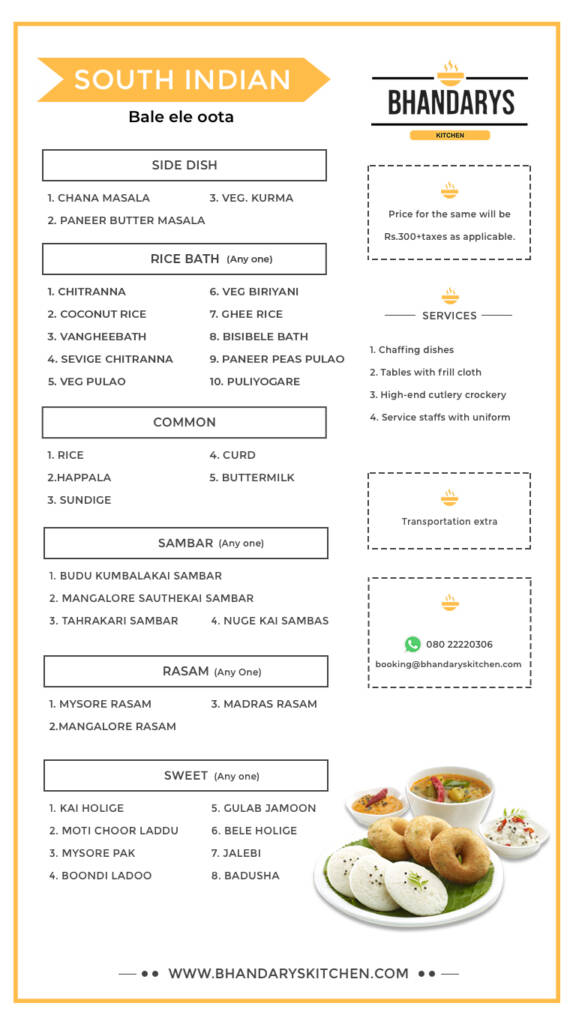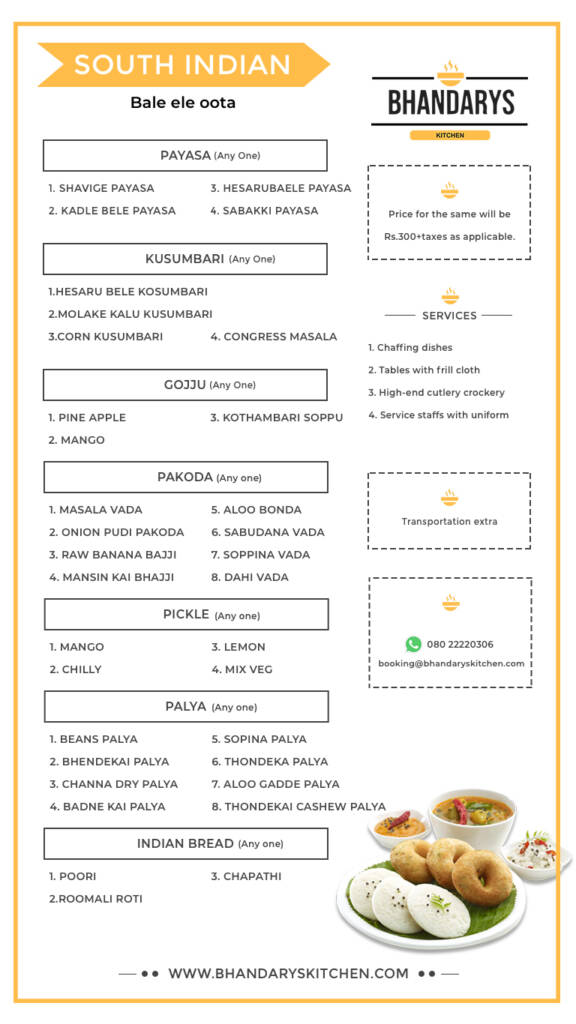 Book Your Day
Make the most of your special day. Before booking us for your grand Brahmin event, we invite you to take part in a tasting session.